Residents of Bac Tra My District in the central province of Quang Nam have fled their homes to set up temporary wood structures in the forest, fearing that recurring earthquakes will collapse their houses over them while they sleep at night.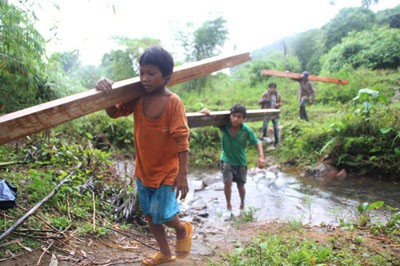 Children help parents carry wood logs to build temporary shelters in the forest in Bac Tra My District in the central province of Quang Nam (Photo: Thanh Nien)
Tra Doc and Tra Bui Communes saw the most number of people flee into the forest and set up temporary shelters. Along the road leading to Tra Doc Commune, local people have piled up timber logs to build make-shift houses.
Ho Van Vien, whose house has a number of cracks from the earthquakes, said that the 4.6 magnitude quake that occurred on October 22 has further broadened the cracks. He and his neighbors now fear the worst and have moved to set up camp in the forest, building temporary shelters from logs of wood.
Ho Van Thien, a neighbor of Vien, said that these recurring earthquakes have frightened him so much that he is scared his house will collapse on him while he sleeps.
Quakes have left cracks in about 100 houses and schools including the Nguyen Van Troi Secondary School, Nguyen Ba Ngoc Primary School and Hoa Mi Nursery School in Tra Son Commune.
Teacher Tran Van Dong from the Nguyen Van Troi Secondary School took Saigon Giai Phong reporters for a tour of the two-storey school that had cracked in many places. Students cause a panic stampede whenever a quake occurs.
 
Dang Phong, chairman of the People's Committee in Bac Tra My District, said that continuously recurring earthquakes have frightened most residents who are fleeing their resettlement houses to set up temporary shelters on open ground in the forest.
The district People's Committee has proposed to the provincial authorities and Vietnam Electricity, investor of the Song Tranh 2 Hydropower Plant, to work out a plan to help residents stabilize their lives.
Mr. Phong said that they are very anxious as the flooding season is approaching while quakes are keeping on recurring.
After a heavy rainfall, floodwaters from Truong River usually flow over the only road leading to Song Tranh 2 Hydropower Plant and 5,000 households in Tra Doc, Tra Bui and Tra Tan Communes in Bac Tra My District and parts of Nam Tra My District are totally cut off.
If heavy rainfall and an earthquake occur at the same time, the district will certainly have a tough time in dealing with rescue operations. Bac Tra My and Nam Tra My Districts should build a bridge spanning the Truong River at the earliest.
Related articles:
Strong tremors felt in Bac Tra My District
People living near cracking dam request early warning on earthquakes