Local residents in the central province of Quang Binh are excitedly preparing to celebrate Tet (Lunar New Year) despite having suffered losses during the recent heavy floods.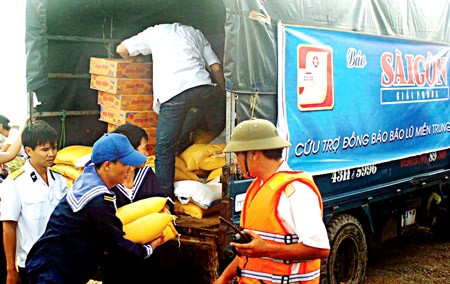 File photo shows that SGGP donated relief materials for flood victims in the central region. (Photo: SGGP)
Sai Gon Giai Phong newspaper's representatives had recently visited the province, which was the worst hit during the floods. SGGP members shared losses with people in the province and brought them joy by offering gifts and financial aid.
Last November, SGGP handed over 300 gift packets donated by H.C.P.T Co. Ltd containing money and food to 300 households in Quang Truong and Thanh Hoa communes. All households spent the aid money to purchase pigs and chicken for breeding. Some households even made a profit at the end of the year.
An interesting case was that of Pham Thi Vy from the Quang Truong commune who spent VND500, 000 to buy 45 chickens to breed. She sold them all for VND145, 000 per chicken, after breeding them for two months. She was so grateful for the aid money from the residents of Ho Chi Minh City for helping her family and for the opportunity to enjoy Tet.
Another case was that of Nguyen Thi Dao in Thanh Hoa commune, who spent VND500, 000 to buy two pigs. She sold both after two months for more than VND2 million. She expressed gratitude for the aid money which was giving her a wonderful chance to spend a happy Tet with her four children.
In Tan Hoa commune, even though residents are still experiencing bitter cold weather, most households are busy making banh chung (square glutinous rice cake) to welcome Tet.
The Vietnam Bicycle and Motorbike Association has distributed 1,500 gift packages, worth VND700 million (US$35,000) to residents affected by the ravaging floods. The packages contained notebooks, briefcases, rice and instant noodles. All such generous gestures have made it possible for residents in flood-hit regions to enjoy a happy Tet.