The Government aims to evacuate about 110,000 households living along riverside and coastal areas and in mountainous regions, which are prone to landslides and flashfloods around the country by 2015, Deputy Prime Minister Hoang Trung Hai said August 16.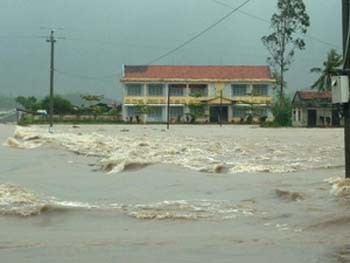 A school is isolated by floodwaters in the central region last year's September. About 110,000 residents should evacuate from landslide and flash flood prone areas in Vietnam (Photo: SGGP)
Resettlement for 250,000 households in semi-flooded areas, which are affected by climate changes, should also be fostered, Mr. Hai said at a national online conference on evacuating residents and preventing natural disasters.
Localities should tightly monitor construction of houses and public works in areas with impending natural disasters, he said. Residents should be forbidden from building homes in regions in high dangers of being lashed by disasters.
Additionally, he instructed the Ministry of Natural Resources and Environment to soon draft a map of areas in risk of suffering flashfloods and landslides.
According to reports at the conference, since 2000, Vietnam has experienced 99 flashfloods, claiming 96 lives and leaving 883 others missing.
The Government annually pays special attention on preventing damage caused by casual natural disasters. Specifically, it has resettled residents, grown forests, improved weather forecasting infrastructures and organized training courses for help local officials and residents cope with floods and landslides.
However, the progress of carrying out residential resettlement projects has been low, Mr. Hai said.
According to authorized organizations' calculations, the number of people in the need of evacuation during the phase of 2006-2015 will be eight folds higher than that during the 2000-2005 phase. In the meantime, capital sources for the resettlement just meet 30-35 percent of demands.