Income of residents in rural commune Tan Nhut in outlying Ho Chi Minh City's Binh Chanh District have improved significantly as a result of a pilot project in the government's national new rural-area program, said at a meeting on February 21 to review achievements after three year implementation of the program.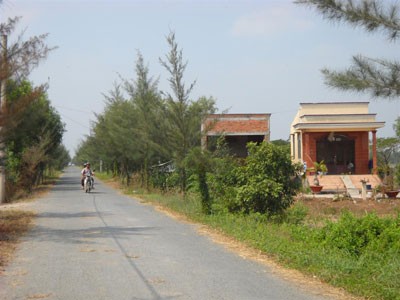 Many roads in Tan Nhut commune are asphalted thanks to the new improved rural program
After three year implementation of the program, Tan Nhut Commune has completed 17 out of 19 standard of the program. More than VND91 billion has been disbursed for upgrading roads, schools and other facilities.
So far 36 chief roads in the commune have been asphalted. Average income of a laborer in the commune increase from VND12 million ($576) per year to VND24 million or even VND100 million a year.
The commune no longer have any families under the Government's poverty line, which is an annual average income of VND4.8 million ($230) or less per person.
The annual average revenue from one hectare has risen to VND239 million (US$11,400), up VND138 million against 2009.
Deputy standing secretary of the Party Committee Nguyen Van Dua was apprised of the commune's achievements. Dua hailed commune leaders emphasizing that the government should not be satisfactory but improve people's living standards along with environment protection and raise people's education level.
Similarly, Nhon Duc commune of Nha Be outlying district achieved 17 standards and residents' average income is raised to VND26.8 million per head per year compared to VND15 million per head per year before.
The figure of poor households has decreased three times and rural labor structures transferred to work in industrial sectors helping improving people's lives.