Hundreds of households living in the new resettlement areas built by hydropower plant investors in Tay Giang and Bac Tra My Districts in Quang Nam Province face an acute shortage of farming land and fresh drinking water, besides also coping with muddy dirt roads and imminent landslides during the rainy season.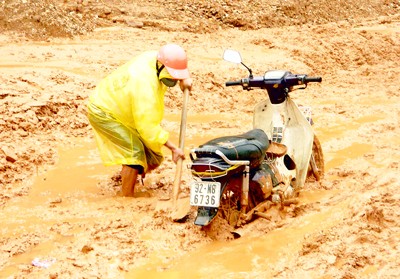 Dirt roads leading to Dang Commune in Tay Giang District of Quang Nam Province are always slushy and muddy during the rainy season (Photo: SGGP)
The Alua and K'la resettlement areas were built in 2004 by the A Vuong Hydropower Plant in Dang Commune of Tay Giang District, in a move to relocate residents from the A Vuong reservoir area.
However, the lives of residents in this area have been full of difficulties as there is very little or no land for farming. Besides, the houses and public infrastructure has over time badly downgraded, with landslides occurring quite frequently to add to the many inconveniences.
The resettlement area includes houses, schools and offices of the People's Committee of the Commune, which are all located at the edge of the A Vuong reservoir, placing residents in danger of landslides in the rainy season.
Bh'ling Mia, chairman of the People's Committee in Tay Giang District, said that since 2009 landslides have collapsed eight houses. The boarding area of Dang Commune Secondary School has twice fallen down into the hydropower plant reservoir.
Water supply systems have been completely damaged and landslides have cut off several sections of roads, said Mia.
The district people's committee plans to relocate people from the resettlement areas of A Vuong Hydropower Plant to new residential areas. This plan is expected to cost VND42 billion (US$2 million) and will be located three kilometres from the current location.
The plan has been approved by the People's Committee of Quang Nam Province, who tasked the A Vuong Hydropower Plant Company to build roads, health clinics as well as electricity networks in the new residential area, but the company has not agreed to the plan so far.
Mr. Mia added that the district will evacuate 115 households from Alua and K'la resettlement areas to safer accommodation in Dang Commune before the onset of the rainy season this year.
Meantime, 834 households living in resettlement areas of the Song Tranh 2 Hydropower Plant in Bac Tra My District do not have land to cultivate rice. Since moving to new houses six years ago, their lives have become far tougher.
Seventy-two households in Hamlet 3 of Tra Doc Commune have left the resettlement area and returned to their old village to make a livelihood.
Dinh Van Minh, head of Hamlet 3, said that now they have to build makeshift schools for children of these families.
More worrisome is that 340 households from Hamlet 5 in Tra Doc Commune have been resettled deep within a forest, tens of kilometres from their old habitation, which has forced them to destroy forests to make way for terrace cultivation.
Dang Phong, chairman of the People's Committee in Bac Tra My District, said that they have set up a project to convert 800 hectares of protective forest into farmland for residents. However, the district needs assistance from the investors of Song Tranh 2 Hydropower Plant to implement the project.
Besides, the district has also proposed to the investors to repair water supply systems, schools and houses to help ensure residents have good living conditions.
Related article:
Hydropower Plant refuses to release water for Vu Gia River