Locals in the central province of Khanh Hoa are concerned for their health after Hyundai Vinashin Shipyard Co. (HVS) produced some 800,000 tons of toxic copper slag, known as nix grains, after just two years of operation.
Moreover, the company has even been allowed to import an additional 20,000 tons of nix grains despite the fact it lacks a proper nix treatment facility.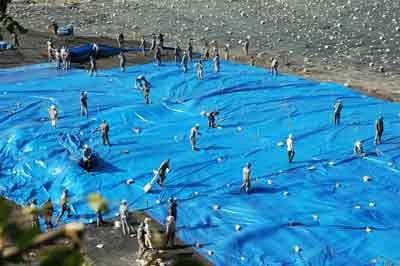 HVS workers cover untreated nix grain (copper slag) with a tarp. Until a treatment plant for the toxic substance is built, local residents will be forced to live with pollution caused by the nix. ( Photo: SGGP)
The Vietnam-Korea joint venture, whose main business involves building and repairing ships, began operations in 1999. Khanh Hoa Province ordered more than 750 households off their land in Ninh Hoa District's My Giang and Ninh Yeng communes in 2006 to allocate 100 hectares of land to HVS. Thousands of residents refused, however.
In 2007, HVS was found dumping large amounts of dangerous, untreated nix waste into the environment. The company then promised to construct a nix treatment factory in Ninh Hoa District.
But the plant will not begin operations until next year and it will take at least three years to treat the 800,000 tons of toxic waste. Local residents will thus be forced to live with the pollution for years to come.
Nguyen Van Phuoc, president of the Institute for Natural Resources and Environment in Ho Chi Minh City, said nix is harmful to the environment and could cause cancer if it absorbs into public water sources.
Responding to public concern over the import of the 20,000 tons of nix, Khanh Hoa's Vice-Chairperson Nguyen Chien Thang said importing the grain was not illegal and the company had the right to do so.
Mr. Thang said the province had given the company the green light to import the slag as HVS had made efforts to improve its environmental practices, adding that he hoped the facilitation of HVS' activities would contribute to the province's socio-economic growth.
But many argue that such growth may come at the cost of residents' health.
Residents were also upset after the Ministry of Natural Resources and Environment (MoNRE) prohibited press from attending a meeting between MoNRE and Khanh Hoa leaders.
After the meeting, it was announced that HVS must come up with an effective solution to treat the waste and only then will they be allowed to use the recently imported nix, while the province must make a detailed report on the issue and submit it to the government.
Khanh Hoa has seen its environment steadily deteriorate, especially in Van Phong Gulf, and despite environmental awareness campaigns there are still many cases like Hyundai-Vinashin. In the pursuit of quick money, many companies and leaders have shown they are ready to ignore the environment and public health.
Related articles:
Hyundai Vinashin Cops VND10 Million Fine For Trying To Dump Toxic Waste
Hyundai Vinashin Could Lose License for Dumping Toxic Waste
Hyundai Vinashin to be Fined for Attempt to Dump Toxic Waste