The earth is the common home for mankind, so coping with climate change is urgent and responsibility of all nations, the Vietnamese Prime Minister said on Dec. 16 at the UN climate change conference being held in Copenhagen, Denmark.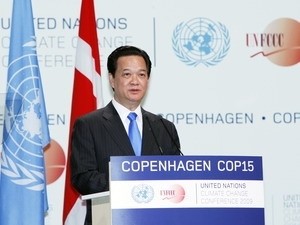 Vietnamese Prime Minister delivers a speech on Dec. 16 at the UN climate change conference in Copenhagen (Photo: Vietnam News Agency)
PM Nguyen Tan Dung said that Vietnam welcomed and highly valued important initiatives on protecting the earth's climate system and wished that participating countries would reach international agreements on coping with climate change at the conference, which drew participation of 130 world leaders.
He affirmed Vietnam's commitment to implement response to climate change and praised cooperation and assistance from international community to the country. Vietnam wishes to receive more assistance and cooperation to effectively cope with climate change and rising sea level.
PM Dung said that Vietnam is among a few countries that are heavily affected by climate change, but not being a major emitter of green house gas emission.
Vietnam has a long coast, many economic zones and population areas, locating mainly in coastal areas and the Red river and Mekong deltas. The country not only provides food for its 86 million people, but also contributes to nourishing millions of people in the world by supplying one fifth of the world's total rice export volume.
If the sea level rises one meter, 38 percent of the country's deltas and coastal areas will be submerged, making serious impacts on life, society and food security of Vietnam and the world.
Vietnam has actively built and is implementing the National Target Program to Respond to Climate Change, Dung said.
The same day, PM Dung met with representatives of several international organizations participating in the conference.