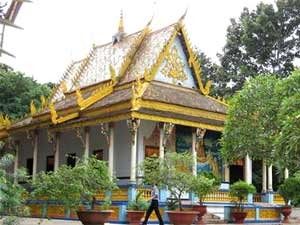 Bats Pagoda before it was damaged by fire in August 2007
Soc Trang Province's authorities on Friday started the restoration project for the Bats Pagoda, a national historical monument that a blaze destroyed in August 2007.
The project, which will cost about VND2.7 billion, is set for completion by June 2009.
The official name of the Khmer pagoda is Maha Tup but it is called Bats Pagoda because a huge herd of bats used to live there before the blaze swept through the famed pagoda, which is over four centuries old.
The accident was caused by a lit candle coming into contact with flammable furniture and decorations. The flame destroyed dozens of Buddha statues, 60 large candles, curtains, carved pillars, and all the doors and roofs of the main temple.
At present, many groups of Vietnamese and foreign tourists still visit the damaged pagoda every day.