The Ministry of Labor, Invalids and Social Affairs instructed provincial leaders on measures towards minimum wages and retirees' pensions on Monday.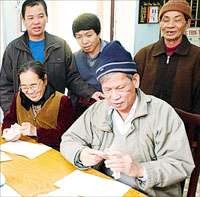 Retirees withdraw their savings to buy gold
Under the instruction, employees' wages from state agencies will increase by 28.6% as of October 1. 

Pensions for retirees will also rise between 33% and 42% depending on their salary levels before they retired.
Most gold consumers are housewives and retirees, according to the Sales Department of the Saigon Jewelry Company (SJC).
Many retirees withdraw their pension savings to buy gold. Purchasing power then rises but gold deposits at commercial banks decrease.
Retirees often buy gold to sell when it increases and earn profits, which makes domestic gold price higher than the world price from around VND250,000 to VND350,000 a tael.
Now that some retirees will see nearly double their usual income, it can be expected that more gold will be bought.