Thousands of hectares of recently seeded autumn-winter rice crops in the Mekong Delta provinces of An Giang, Kien Giang, Dong Thap and Can Tho City are in threat by rising floodwaters.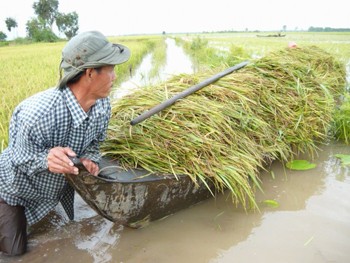 Rice crops threatened by floodwaters (File photo)
Dong Thap may be the worst affected with 90,000 hectares threatened by rising floodwaters. Chau Thanh District alone has nearly 5,000 hectares facing severe damage due to its vulnerable dyke system.
According to the Southern Regional Hydro Meteorological Center, high tides combined with heavy rains have heightened the floodwater threat level of the Mekong River in the Dong Thap Muoi area, which covers the three provinces of Long An, Tien Giang and Dong Thap, and the Long Xuyen Quadrangular which in itself covers most of Kien Giang Province, An Giang Province and Can Tho City.
Water levels in the two tributaries of the Mekong River, the Tien River running along Tan Chau town and the Hau River in Chau Doc District reached 3.83 meters and 3.15 meters Sunday, respectively.
The National Steering Committee for Flood and Storm Prevention has instructed its branches in eight provinces and cities in the Mekong Delta to remain vigilant and closely monitor floodwater levels and keep residents updated via the media.
They should also be alert to rescuing stranded people, reinforce dykes, prevent rice crops from flooding and ensure safety of school going children.
Related article:
Flood warning in Mekong Delta Province