The second Vietnam Rice Festival will take place in the southern province of Soc Trang on November 8-11 this year to glorify the commodity, which makes the country known as a world leading rice exporter, the organizers announced Tuesday.
"The festival is a significant economic, cultural, social and tourism event of the country, mainly to honor those who make and export Vietnamese rice, or Vietnamese pearl," Soc Trang Province Chairman Nguyen Trung Hieu told a press conference in Ho Chi Minh City.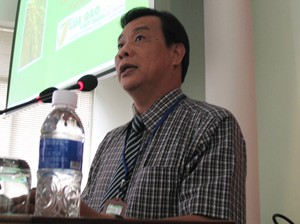 Soc Trang Province Chairman Nguyen Trung Hieu announces the 2011 Vietnam Rice Festival at a press conference in Ho Chi Minh City on August 16, 2011 (Photo: Tuong Thuy)
"Rice has an important role to play in global food security, and Vietnam has its role in that," said Mr. Hieu, head of the organizing panel.
Involved in organizing the national event are the ministries of Agriculture and Rural Development; Industry and Trade; Culture, Sport and Tourism; Information and Communications; Vietnam Food Association and other Government agencies, he added.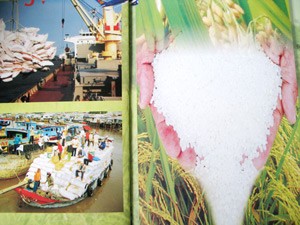 A photo combination presented by the 2011 Vietnam Rice Festival organizers conveys the image of Vietnamese rice as pearl (Photo: Tuong Thuy)
The festival will include displays, exhibitions, fairs, seminars and scientific workshops; activities to promote investment, trade and business relations among domestic and foreign partners, cultural and sports activities which are typical in the Mekong delta province, home to a majority of Khmer people.
The festival is coincided with the Khmer people's Water Festival – the most important event in the year of the ethnic minority group.
More than 20 countries and territories have agreed to join the Rice Festival, including India, Myanmar, Malaysia, the Netherlands, , Chile, Russia, Thailand, Canada, the US and Indonesia, according to the organizers. The foreign partners will take part in gastronomy pavilions, exhibitions, cultural activities and workshops.
Vietnam shipped 4.61 million tons of rice between January and July up 16.7 percent in volume from a year ago. The shipments brought home US$2.18 billion, a 26 percent increase over the same period last year, according to the Vietnam Food Association.
Vietnam currently ranks second in the world in rice exports after Thailand, but the country's promotion work remains weak, according to market analysts.
Because of that, this rice festival is a good opportunity to connect Vietnamese producers with domestic and foreign traders, aiming to bring Vietnam's rice products to more potential markets, according to Mr. Vo Minh Chien, Party chief of Soc Trang Province and head of the Steering Board for the festival.
The first Vietnam Rice festival took place in 2009 in Hau Giang, another Mekong Delta province.
The delta region contributes over half of the country's rice output, 90 per cent of rice export, 65 per cent of fisheries production and 70 per cent of fruit.
Rice Festival 2011 highlights
Opening Ceremony: Nov 8, 8 pm
- Closing Ceremony: Nov 11, 8 pm
- 3 workshops: Positioning Vietnamese Rice; Development Road for Quality of Vietnamese Rice; Export of Vietnamese Rice
- Photography contest: Vietnam Rice and Global Climate Change
- Contest of rice brands
- Beauty contest for countryside ladies
- Khmer people's traditional boat race during their Water Festival
- Fairs and exhibitions for trade and investment promotion, farm produce promotion