The value of Vietnamese rice has consistently risen on the global market, delegates said at a workshop titled "Vietnamese rice - Export and integration" held in the Mekong Delta province of Hau Giang on November 29.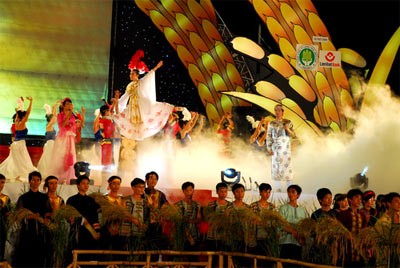 The opening ceremony of the Vietnam Rice Festival takes place in the Mekong Delta province of Hau Giang on November 28
Held under the auspices of the first Vietnam Rice Festival -- which opened on November 28 -- the workshop discussed rice production in Vietnam, local and global markets, and branding, competitiveness, and policies for sustainable development of rice production in the country.
Deputy Minister of Industry and Trade Nguyen Thanh Bien said: "Increasing productivity, decreasing post-harvest losses, stable and sustainable growth, and improving farmers' lives are [our] targets."
Delegates agreed that 2009 has been a successful year for export of the grain, with about 6 million tons shipped.
The Vietnam Food Association said since 1989, when Vietnam began exporting rice, the country has earned US$20 billion from exporting 70 million tons of rice.
 
Global supplies of the grain are forecast to reduce by 10-20 million tons in 2010 while countries like the Philippines and India will import large quantities of it after their production was hit by natural disasters like typhoons and drought.
The Philippines, a regular customer of Vietnam, plans to import 3-4 million tons.
Some delegates said for Vietnam to compete with other countries, it has to improve packaging, keep quality consistent, and focus on branding.
The festival is being held on the banks of the Xa No canal, the place from where Vietnam sent its first shipments of rice abroad hundreds of years ago.
It has attracted more than 30 provinces and cities and 300 local and foreign companies engaged in agriculture and rice farming.
The festival has brought an opportunity for producers, businessmen, scientists and exporters to meet together to exchange views on their common concerns on building Vietnam rice trade mark stronger and stronger.
The festival, which will wrap up on December 1, will showcase the ethos of the Mekong Delta's wet-rice civilization and the cultural heritage of the Vietnamese nation.