Farmers in the Mekong Delta provinces have entered harvest season, however, the rice prices have dropped due to continuous rains.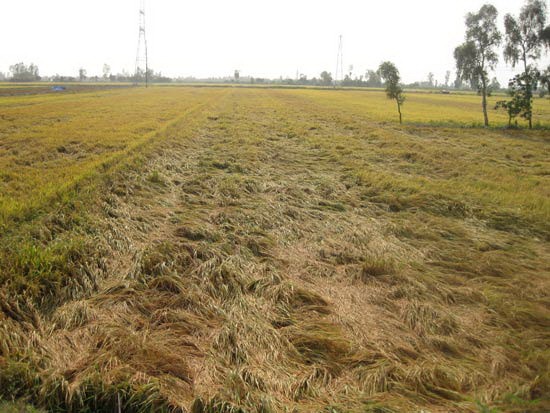 A large area of paddy is fallen because of heavy rains. (Photo: SGGP)
The price of fresh paddy is currently at VND4,500 per kilogram; fresh long-grain paddy at VND4,700-4,800 per kilogram, and sticky rice at VND5,400 per kilogram, an average drop of VND200-300 per kilogram compared to that by mid-May. Harvesting has been facing difficulties as a large area of paddy in Dong Thap, Can Tho, and An Giang provinces was fallen due to heavy rains.
 
Although rice prices are slightly declining, this summer-autumn crop most farmers in Dong Thap, Can Tho, An Giang, and Vinh Long provinces where paddy fields were not affected by saltwater intrusion and drought, have seen a bumper crop with productivity of 900-1,000 kilogram per 1,000 square meters and an average profit of about VND20 million per hectare.
 
According to the Ministry of Agriculture and Rural Development, farmers in the Mekong Delta provinces have grown more than 1.65 million hectares of paddy in the summer-autumn crop this year. Production is estimated at around 9.2 million tons, up 134,000 tons compared to last summer-autumn crop.