It is reported that the prices of rice and vegetables in the Mekong Delta provinces are increasing rapidly.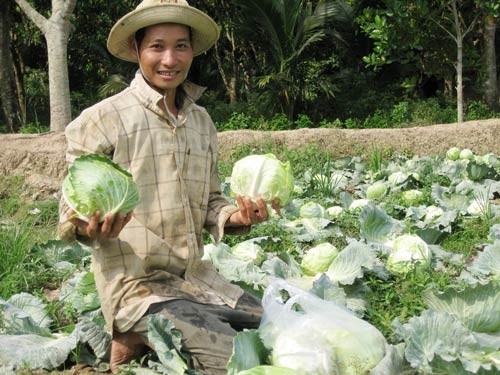 Farmers in Vinh Long Province enjoy high prices of cabbages. (Photo: SGGP)
The prices of many kinds of vegetables have strongly climbed in the Mekong Delta provinces recently. According to Mr. Nguyen Cao Mien, director of Tan Binh Vegetables Cooperative in Binh Tan District in Vinh Long Province, traders were buying cabbages at VND10,000-14,000 per kilogram and cucumbers at VND10,000-12,000 per kilogram at the field, doubled those at the beginning of this year. With such prices, farmers earn a profit of VND20-25 million per 1,000 square meters of cabbages, many times higher than that from growing rice.

Mr. Mien said that the prices of vegetables escalated because provinces in the Mekong Delta, Southeast, Central, and Central Highlands of Vietnam have been facing drought and saline intrusion which caused a shortage of fresh water for watering, leading to a decrease in the area of vegetables. Meanwhile, as Binh Tan district , Binh Minh Town in Vinh Long Province, Lai Vung and Lap Vo district in Dong Thap Province, and Cho Moi and Phu Tan district s in An Giang Province locate near Tien and Hau rivers, they have access to a stable fresh water source. Therefore, farmers have taken advantage of it to cultivate vegetables during dry season, bringing in high income.

Similarly, the price of rice has also gradually surged. Mr. Nguyen Van Phuong, a trader in Lap Vo District in Dong Thap Province, said that the price of fresh paddy bought at the field was VND5,000 per kilogram; fresh long-grain paddy was at VND5,400 per kilogram; and fragrant paddy was at VND5,600-5,700 per kilogram. Although the price of rice is rising, rice production of this winter-spring rice crop as well as quality is not as high as previous crop due to impacts of drought and salt water encroachment.

According to the Vietnam Food Association, the country's export of rice exceeded 856,000 tons of rice in the first two months of this year, up 102 percent compared to the same period last year, with free-on-board value of nearly US$348 million. Contracts from previous year are the main reason for an increase in rice export quantity this year.

Increasing rice price has prompted farmers to rush to grow rice for the summer-autumn crop though the Ministry of Agriculture and Rural Development warned farmers not to cultivate rice on land with salinity of above 3 per mille but to wait for rains in order to lower salinity. As for land with salinity of below 3 per mille, farmers are able to grow rice but they have to use short season and salinity-tolerant rice varieties. Forecast says that if drought and saline intrusion last until June, around 500,000 hectares of rice will be affected in this summer-autumn rice crop. Thus, farmers should closely watch developments of weather so as to lessen risk of loss.