Rising floodwaters in the Mekong delta have claimed seven lives and inundated thousands of hectares of rice crops while causing substantial damage along the dyke routes.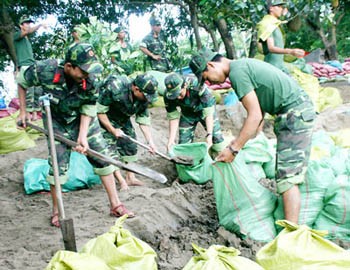 Army soldiers in An Giang Province help farmers consolidate dykes to protect their rice fields (Photo: SGGP)
The breached dykes have inundated over 5,000 hectares of rice crops in An Giang Province over the last two days. Over 2,000 houses have been submerged and 627 others are on the verge of collapse.
124 households have been evacuated while 255 others are now being relocated from An Phu, Tan Chau, Phu Tan, Cho Moi and Long Xuyen Districts.
Three new sections of the dyke were breached in Thanh My Tay, Binh My and Binh Long Commune of Chau Phu District on September 29, causing flooding of 2,900 hectares of rice growing area.
The breached dyke also submerged 540 hectares of rice crops in Vinh Trung Commune of Tinh Bien District.
An Giang Province has mobilized over 11,000 people to fortify 370 kilometers of dykes every day, to protect 134,000 hectares of rice fields and 9,000 hectares of vegetable cultivation. The province has also cancelled all unimportant meetings to be able to focus on tackling the flood situation.
An Giang Province has so far reported four deaths caused by flooding.
Floodwaters continue to surge 5-15cm per day in Dong Thap Province. Vast sections of the dyke routes are in immediate danger from the fierce fury of the flood currents, keeping the province authorities on round the clock alert to monitor the dykes.
Scores of houses are also deep under water in Hong Ngu town, Tan Hong and Tam Nong Districts. One young child, about 4-6 years old, drowned in Tan Hue Commune of Thanh Binh District. The name and family of the unfortunate child have yet to be determined.
Some highways and roads in the province are also submerged, forcing authorities to ban trucks of over 10 ton capacity to ply on Highway 30 and other roads which link districts in the northern part of the province. Only two wheel vehicles are permitted to run on some rural roads north of the Tien River.
Local authorities have also put up warning sign boards along some river sections that are seen to be most vulnerable and the education department has shuttered 87 schools with nearly 12,000 students for safety reasons.
Meanwhile, five districts of Long An Province are lying submerged under water. Several stretches of roads are overflowing and many parts of the border areas in Tan Hung District are facing landslides. The recently breached dyke has submerged about 30 hectares of rice crops.
According to the Steering Committee for Flood and Storm Prevention in Long An province, 183 hectares of rice crops have been damaged due to floodwaters causing output to reduce by 30-70 percent. So far 70 hectares have been completely devastated.
Three people have died while property worth VND4 billion (US$190,000) has been destroyed.
Several main roads in Long Xuyen Province and Can Tho City are lying submerged under floodwaters caused by excessive rains and high tide.
Related article:
Floodwaters breach dykes in Dong Thap, An Giang