In 2006, under the pressure of ASEAN countries to reduce import taxes, Viet Nam's industries will have to improve its competitiveness in both domestic and overseas markets. Viet Nam will also have to implement the modernized investment roadmap in order to become an industrial country in 2020.
Mr. Bui Xuan Khu, Deputy Minister of Industry talked with SGGP reporter about the important steps to reach this goal.
* Reporter: What are the main targets of our industries in the period 2006-2010?
* Mr. Bui Xuan Khu: There will be the transition of manufacturing to high-tech and clean industrial products with increasing rate. It is a roadmap for Viet Nam to become an industrial country in 2020.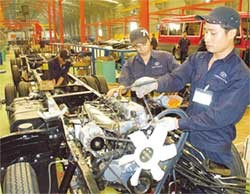 Workers of Tra-bus Factory (Tracimexco Company)
The industry should develop into three branches including the competitive branch (agriculture, forestry and aquatic processing, garment, footwear, shipping mechanics, equipment manufacturing, electric installation, motorbike and woodwork), the material producing branch and the potential industrial branch (energy industry and application of energy-saving technology, material technology and information technology).
Export will be the target of this period; average growth rate should reach 15.2 - 15.5%, GDP growth rate of industry and construction should reach 9.5 – 10.2%. The Ministry of Industry is also determined to make Viet Nam an industrial country five years sooner than expected.
* So we at the same time invest in production expansion and technological modernization and transfer product structure despite the low starting point of the industry. What will be done to deal with this problem?
* The most important tasks for businesses are to reduce production cost and apply advanced technology, focus on supporting industries, mobilize capital and other resources to invest in the main-point projects, supplement investment incentive policies, strengthen co-operation to avoid wastefulness and establish preventive measures for domestic goods in conformity with WTO regulations.
* What are the plans to reach these goals?
* The most effective solution is to boost business and enterprises should have their own plans to positively cope with market's changes.
In the first quarter of 2006, the Ministry of Industry will complete the portfolio of branches and products of top priority as well as transparent and consistent incentive policies.
Businesses should also reconsider their technology quality, complete supporting industrial planning, focus on textiles and garment, footwear, produce spare parts for mechanic industry and electric equipments and establish centers for production and material trade.
Another solution is to boost investment by mobilizing capital for big projects in such fields as power, coal, oil, chemical, steel, mechanic manufacturing, cement, etc. The ministry will closely monitor the implementation of these projects to avoid wastefulness.
The ministry will complete the planning of economic branches, provide information, promote trade and investment and propose policies in order to assist businesses in their work.
* Thank you very much.