A river landslide in Mekong Delta Province of Ca Mau buried three houses in the Dam Chim River at midnight of May 22.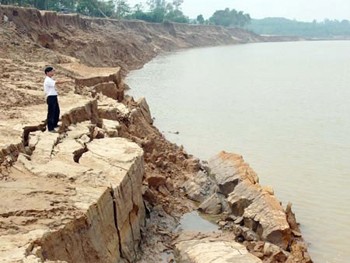 (Illustration photo from internet)
According to Nguyen Chi Thuan, Chairman of the People's Committee in Dam Doi District where the landslide occured the three houses were located on the edge of the river.
The damage is estimated at VND140 million (US$6,700). No human life was lost and the district administration has offered each affected family VND1 million.
Thuan said that people living in these houses had seen cracks developing in the walls and had evacuated the premises and removed all their belongings.
Local authorities are evacuating people from three other houses in the area, as there are visible cracks in their buildings.
Related articles:
Constant threat of landslides in Mekong Delta
Erosion resizes area of Ca Mau Province annually