River landslides, climate change and flash floods are increasingly threatening the lives of tens of thousands of households in Vietnam, who may be faced with no choice but to relocate to safer areas, according to the Ministry of Agriculture and Rural Development.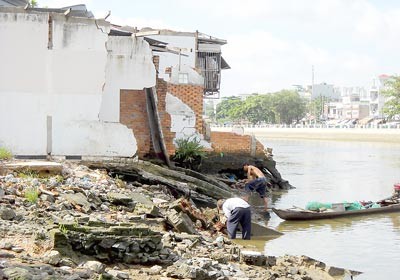 Landslides have caused huge damage along the Thanh Da Canal in Binh Thanh District of HCMC (Photo: SGGP)
Statistics from the ministry state that the country now has hundreds of landslide-prone spots and at least 60 river valley areas that are highly susceptible to flashfloods.
Pham Khanh Ly, deputy head of the Department of Co-operatives and Rural Development, says up to 600,000 households should be relocated within the next few years, and 350,000 of these by 2015.
Meantime, relevant authorities have been able to set a target to relocate 125,000 households by 2015 and 300,000 by 2020, said Mr. Ly. Priority will be given to those living in the Mekong Delta, the northeastern and north-central regions.
The ministry has had a policy to assist those being relocated. A household losing a house or farmland due to landslides will receive financial aid of VND28 million to relocate to the plains and VND32 million ($1,500) to mountainous areas.
Total capital required for the purpose will exceed VND30 trillion (US$1.4 billion) from now until 2020. Of this amount, 60 per cent will come from the central budget and 40 per cent from local budget.
Hoang Van Thang, deputy minister of Agriculture and Rural Development, said that despite the huge capital expense, they don't have an option but to resettle residents from danger zones.
Nguyen Thi Dinh, director of the agriculture department in Tuyen Quang Province, says the province budget is insufficient to meet 40 per cent of the capital required for the relocation task. Several other provinces have also expressed the same concern.
Meanwhile, Au Dinh Chien, deputy director of the agriculture department in Ha Giang Province, worries about shortage of land for resettlement.
He said that most of the rich cultivable land has already been taken and that not taken is not practical farming areas. If households are resettled on these strips of land they will not be able to farm and soon return to their old habitat to earn a livelihood. Besides, the financial assistance provided by the ministry for resettling is far too low.
In related news, increased river landslides in Ho Chi Minh City are a threat to residents and their properties. Nguyen Huu Tin, deputy chairman of the city People's Committee has approved a plan to tackle 62 highly landslide-prone spots.
Accordingly, the City People's Committee tasked the Department of Transport to speed up current embankment projects and focus on fortifying nine of the most vulnerable landslide-prone spots first.
The Department of Planning and Investment has been asked to allocate more than VND91 billion ($4.3 million) for site clearance and for stepping up implementation of construction work for the nine landslide prevention projects.