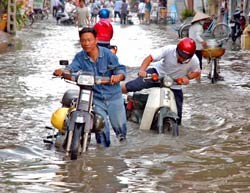 High tides in the Saigon River flooded D2 Street in Binh Thanh District yesterday
Tides surging to a 50-year high on the Saigon River and exceeding the third warning level by 1.52m have badly flooded many parts of Ho Chi Minh City.
Districts 2, 6, Thu Duc, and Binh Thanh and parts of Binh Duong Province are up to two meters under water. Traffic on a three-kilometer section of Highway 13 slowed to a crawl on November 13 night and 150 households had to be evacuated to safety.
In District 12 the tide breached dykes along the Ba Cam, Giao Khau, Trum Bich, Nam Soc, Cau Chua, and Cau Kinh canals, causing heavy flooding.
Over three kilometers of embankments were breached swept away in Districts 12, Thu Duc, Binh Thanh, Hoc Mon, and Cu Chi which remain submerged.
With more high tides and a tropical depression forecast in the next few days, the city is likely to see further flooding.
The Southern Hydro-Meteorology Station said the flood tide in Ho Chi Minh City's Saigon River rose to a record high of 1.52m yesterday and would remain at this level for the next two days.
It is likely to cause damages of trillions of dong (VND1 trillion = US$59.1 million).
Hanh Phuc Apartment on Ngo Quyen Street, District 5 and Hung Vuong Street in District 6 remain inundated.
A few communes in Thu Duc District, like Hiep Binh Phuoc, Hiep Binh Chanh, Tam Binh, and Linh Dong, too remain waterlogged though the Saigon River has receded somewhat.
In a dispatch on November 13 the city's Steering Committee for Flood and Storm Control ordered people's committees and other agencies to undertake emergency preventive measures and stockpile construction materials.
It said areas on the city's outskirts have to strengthen levees against the tide.
It ordered the HCM City Water Drainage Company to be ready to operate pumping stations.
It instructed the Department of Communications and Transport and police to regulate traffic and erect warning signs on badly inundated streets so that motorists can avoid danger.