The Ministry of Transportation and Communications has just outlined a plan to restore road and railway traffic safety. The plan is based on the government's recently issued resolution to raise public awareness of the importance of the compliance with traffic laws to control traffic accidents.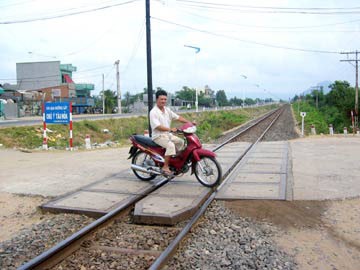 A motorcyclist drives across a track
According to the Vietnam Railway Department, in Ha Noi, the concrete walls or steel fencing on both sides of the 109-kilometer railway line to prevent people from wandering onto the track, called railway safety corridors, have been severely damaged.
Large sections have been cut off and sold for scrap, leaving 397 gaping holes in the walls or fences.
At present, people see the gaping holes as entrances, and walk or drive through them in order to cross the tracks. Many people have also built their houses within the fenced off areas.
The Vietnam Road Administration's report revealed that the same situation has occurred on the national highway system. People have built roads or paths without permission that connect their homes to the highways, forming illegal intersections.
Also acccording to the report, as of August 2007 there were 16,282 such intersections throughout the national highway system.
The report stressed that many houses have encroached on the pavement. The total area of construction illegally occupying the pavement amounts to 45.4 million sq. meters.

The said violations are one of the main causes of the increase in traffic accidents throughout the country. From 1996 to 2006, railway traffic alone saw 3,610 accidents, leading to 1,638 deaths.
To restore the highway safety for National Highway 1, the Ministry of Transportation and Communications said that it needs VND 14,365 billion for the period from 2007 to 2020.
The Minister of Transport and Communications, Ho Nghia Dung, outlined the plan: In the immediate future, they will clear all construction, including kiosks, restaurants, huts, and advertisement boards, on the following four sections on the national highway.
The first section is from Ha Noi City to Ninh Binh Province, the second from Vinh City to Hue City, the third from Da Nang City to Nha Trang City and the last from Ninh Thuan Province to Ho Chi Minh City.
As for the illegal intersections on the highway, 50 percent of them will be eliminated by March 31 2009.
Mr. Dung added that the total funding needed for the restoration of railway traffic safety is VND 4,173 billion. Priority will be given to rebuilding the railway safety corridors in big cities like Ha Noi, Hai Phong, Ho Chi Minh City, and Da Nang.