The Government has agreed on suspending the collection of the controversial road maintenance fees from motorbike users starting in 2016 after public criticism said the fee was unfair.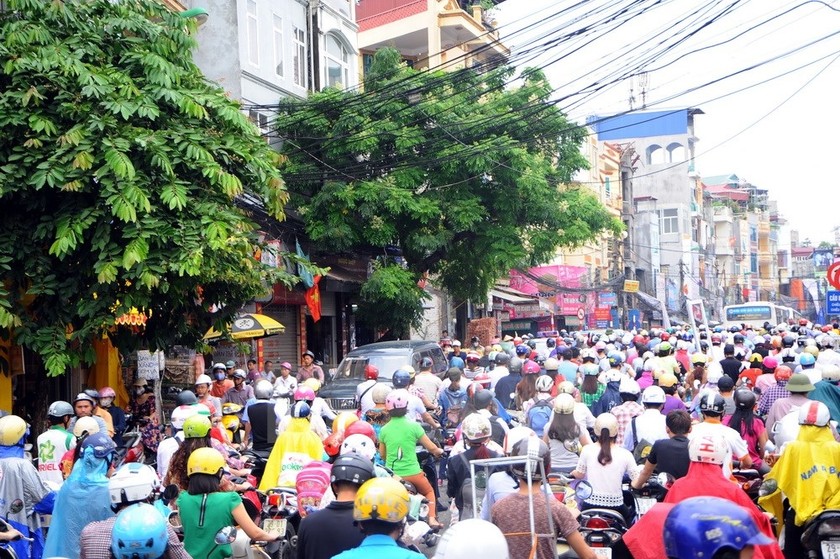 A traffic congestion on Kim Nguu road in Hanoi (Photo: VNA)
The decision was reached in a monthly regular cabinet meeting chaired by Prime Minister Nguyen Tan Dung that ended on October 1.
Transport Minister Dinh La Thang said in a report to the cabinet that although the fee was "in line with the Law on Road Transport and the Order on Fees and Charges," its collection should be postponed due to a number of difficulties in execution.
Loopholes in regulating the jurisdiction of local authorities over the fees collection made it highly dependent on the residents' self-decisions to voluntarily pay the fee or not, said Thang.
That, in turn, resulted in the extreme low collection of the road fees since its first enrollment in 2013 and its decreasing trend through years.
Over the past three years, the amount of fee collected reached merely 1.2 trillion VND (53.3 million USD), only half of the amount previously planned in the Road Maintenance Fund at 2.6 trillion VND (115.5 million USD) a year.
"And the fee collection amount over the first six months this year has dramatically plummeted, down to 174 billion VND (7.7 million USD)," said Thang. "That was equivalent to only 6.7 percent of the annual plan."
Another obstacle for the fee collection was the massive mobility rate of motorbikes across localities, especially in big cities like Hanoi or HCM City, the Minister said.
Thang also blamed the public outcry to universally postpone collecting the fees following unilateral decisions by Da Nang and Khanh Hoa in July to temporarily stop the fee collection.
The two localities said they had to call off the road fee collection because the collected amount was not worth all the efforts to do so.
Though it agreed to suspend the fee collection on the national scale, the cabinet also said that all localities, including both Da Nang and Khanh Hoa, had to continue collecting the fee until January 1 in order to guarantee fairness for the residents.-VNA