Deputy Prime Minister Hoang Trung Hai has instructed the Ministry of Transport to consider the Central Road Maintenance Fund's proposal to halt collection of road maintenance fee on motorbikes from next January and report to the Prime Minister before September 15.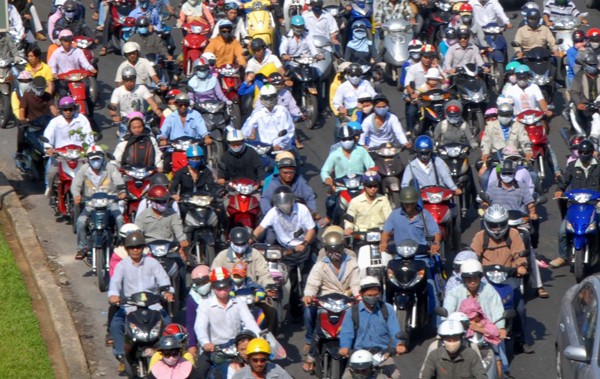 Road maintenance fee collection is difficult and low effective (Photo: SGGP)
According to the Road Maintenance Fund, the fee collection has been very difficult and low effective after two years of implementation.
The toll's revenue accounted for 21 percent of plan in 2013 and 2014 and continued reducing in the first half this year to reach only 6.71 percent of the year's plan.
The fund has attributed the issue to asynchronous collection organization in wards and communes. They have worked in their own ways to manage motorbike number and contribute the toll revenue to the state budget.
Besides, sanctions on those not paying the fee as per Circular 133 issued by the Ministry of Finance last year were unfeasible and uncontrollable because penalization has come under the jurisdiction of tax agencies, inspectors from authorized departments and local people's committees, not police force.
Some provinces and cities have collected the fee but some others such Ho Chi Minh City, Da Nang city and Khanh Hoa province have yet to do so causing unfair condition.

Related article:
Transport Minister proposes to halt motorbike toll collection