The Hanoi to Ho Chi Minh City SE3 train jumped the track at the south section of the Hai Van Pass at 12.50 pm December 5, terrifying hundreds of passengers and blocking rail traffic for hours.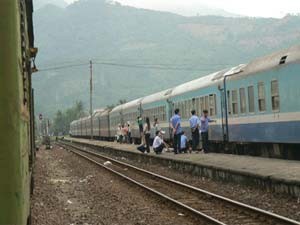 The SE4 train gets stuck in Da Nang City for several hours after the Hanoi-HCMC SE3 is derailed at the Hai Van Pass (Photo: VNN)  
It happened when the train's second coach left the rails and was dragged for over 100 meters before the train came to a halt, the Quang Nam - Da Nang Railway Management Company reported.
A locomotive and a crane were rushed to the spot but the mishap held up the HCMC-Hanoi SE4 and the HCMC-Hanoi SE8 for several hours.
With the scene of the accident hard to access for rescuers, traffic could resume only at 8 pm. No casualties were reported.
There were two deadly road accidents earlier in which six people were killed and four others injured.
At 3 pm on Highway 20 in Duc Trong District, Lam Dong Province, a 16-seat bus while traveling from HCM City to Da Lat encroached on the wrong side of the road, crashing into a truck coming in the opposite direction.
A woman died on the spot and two others, on the way to hospital. The driver of the bus and a motorist were injured.
At 10:45 am on provincial road 32 in Mang Thit District, Vinh Long Province, a truck plowed into a group of students of Phuoc Loc A Primary School waiting to cross the road.
Two died immediately and one more on the way to hospital. Two others were seriously injured and are in hospital.