A stone-quarry in central Viet Nam's Nghe An province collapsed yesterday, killing three workers and injuring seven others.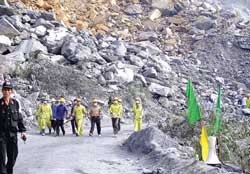 The Ban Ve accident site in Nghe An
Ms. Le Thi Quyen, 35 years old and Ms. Dau Thi Huong, 31 died on the spot when the Len Nay Quarry in Quynh Luu district's Hoang Mai town collapsed. Twenty people were working at the time.
Two had their legs amputated and are in critical condition.
The quarry was licensed to local Binh Minh Company Limited which transferred its exploitation rights to two businessmen - Nguyen Van Doan and Nguyen Van Nghia who have escaped after the accident.
 
The quarry mainly supplies stone for construction works in Quynh Luu district.
Rockslides at quarry sites have been claiming many lives repeatedly in the past weeks, mostly in the central region.
On January 6, a similar landslide at a granite quarry in the central Phu Yen province killed three workers.
Two days earlier, Bui Nham, 46 perished when a gold mine collapsed in central Da Nang City, which also injured two others.
Two weeks ago, another three quarry workers were killed in a landslide in the northern Ha Nam province.
On December 27 last year, Ha Tinh province's Ru Moc Quarry, in the central region, collapsed, claiming 7 lives.
Then, 18 people perished last month after being buried under 30-50m of rock and soil on December 15 during a serious rockslide at the Ban Ve hydro-electronic power project construction site in Nghe An, the worst accident in years.