A huge rockslide at the Cam Mountain in Tinh Bien District in the Mekong delta province of An Giang crushed six people to death and seriously injured two others on May 5, informed the local police.
Large rocks and boulders suddenly rolled down the mountain on a sedan van travelling on the road below carrying seven passengers, crushing six to death on the spot.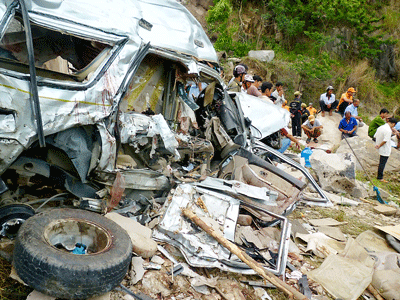 Six people were killed on the spot when falling boulders crushed a sedan carrying seven pilgrims (Photo: SGGP)
The van's driver and five of the passengers died instantly. Among the dead named were driver Truong Hoai Tam, 29, a local man; Nguyen Van Nga, 60, from My Long Commune in Cai Lay District of Tien Giang Province; Vo Van Ly, 30; Vo Hoang Phuong, 41; Vo Van Nhe, 32; and Tran Van Leo, 31.
The two injured were Pham Minh Tam, 40, and Nguyen Van Du, 37, who were taken to the General Hospital in An Giang Province but later transferred to Tien Giang General Hospital as wished by their relatives.
Some other vehicles that were following behind the van were lucky to stop in time and avoid the rockslide.
Local police rushed to the scene to help the accident victims and prevent other vehicles and people from entering the vulnerable area. Authorities struggled to clear the area, as this is an important pilgrim route to the Cam Mountain.
The District People's Committee and the An Giang Tourism Company that manages the Lam Vien Cam Mountain tourist area, offered support of VND14 million (US$673) to families of each of the dead victims and VND1.5 million to each of the injured.
On the same day, a father and son were seriously burnt on an oil tanker boat after it suddenly burst into flames.
Dang Van Binh, 60, suffered 76 per cent burns on his body, while his son, Dang Cong Hieu, 40, from Binh Son District in the central province of Quang Ngai suffered 83 per cent burns.
According to Dang Hong Lan, brother of Dang Van Binh, Hieu was cooking on the boat when Binh's ship was anchored at the Dung Quat No.1 harbour.  Suddenly the gas pipeline broke and caught fire, engulfing the oil tanker boat rapidly.
Fishermen anchored nearby tried to help put the fire was uncontrollable. They just managed to rescue both father and son and rush them to hospital.
The entire body of the ship and all the fishing equipment on it was completely charred.