The Ministry of Transport (MT) and the Korea International Cooperation Agency (KOICA) in Vietnam signed a record of discussion on the project for development experience exchange partnership in the transport sector, in Hanoi on June 14.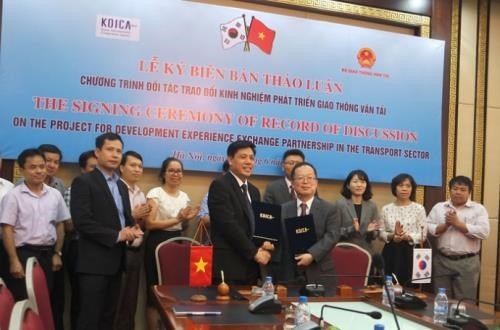 Representatives of the MI and KOICA at the signing ceremony (Source: VNA)
The project aims to establish a regulation foundation for the development of Vietnam's railways while enhanching the professional skills of specialists in the area, through providing the RoK's technologies and experience under human resource development programmes.
Speaking at the ceremony, Deputy Minister of Transport Nguyen Ngoc Dong spoke highly of Vietnam and the RoK's fruitful cooperation over the past two decades through various collaboration programmes, including transportation which has actively helped to improve the transport system in the Southeast Asian country.
The official highlighted that the project is significant in perfecting the country's legal system and manpower training in developing its railways.
Head of KOICA in Vietnam Chang Jae Yun said the project is expected to seek measures to attract more investment from the RoK Government, and civil organisations into Public-Private-Partnership (PPP) projects on road and railway infrastructure in Vietnam.
The project will run from 2016 to 2019, with the RoK Government's funding of an amount not exceeding five million USD .
The RoK is Vietnam's second biggest sponsor in transportation.