The Republic of Korea (RoK) has decided to provide a loan package worth around US$46 million to help Vietnam implement a series of projects on infrastructure development.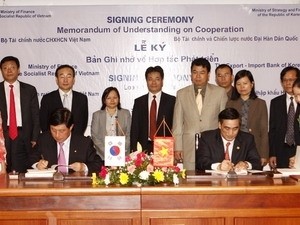 At the signing ceremony
A Memorandum of Understanding (MoU) on the development cooperation between Vietnamese Ministry of Finance and RoK Ministry of Strategy and Finance, together with related agreements, were signed in Hanoi on October 22 with the participation of Vice Minister of Finance Tran Xuan Ha, Vice Minister of Strategy and Finance Hur Kyung-Wook and Vice President of the Export-Import Bank of Korea Chung Whan-kil.
Under the agreement, the RoK's funding will be injected to a project to build a smart traffic system for the Ho Chi Minh City-Trung Luong Highway, the Moc Chau water supply project, and a project to provide teaching equipment to the Thanh Hoa College.
Speaking at the signing ceremony, Vice Minister Ha said that the MoU will be the foundation for the two sides to share their experiences on public financial management, State budget expenditures, fiscal policy and the treasury, the equitisation and management of State-owned enterprises, personnel management and others areas of mutual concern.
The MoU will also contribute to increasing cooperation in fields of economics and trade between the two countries in the near future and bring the relationship between the two ministries to a new height.