Copyright exchange, negotiation or trading is such a pressing issue in Vietnam these days that the government is looking into the many ways to resolve this problem.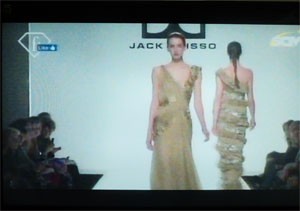 Fashion TV, one of the most popular foreign channels in Vietnam is on the verge of discontinuation due to the royalty issue (Photo: Minh Tri)
More than 70 foreign pay channels are broadcasting in Vietnam presently, many of which like HBO, Star Movies, Disney Channel, Cartoon Network and Discovery Channel have become familiar with Vietnamese viewers.   

Royalties for channels like HBO, Cine Max, Disney, Fashion TV and AXN are extremely high and went up by 1,043 percent in 2008, 162 percent in 2009 and 1,643 per cent in 2010. However in 2011, after repeated negotiations with relevant agencies the increased rate was set at 150 percent.

Saigon Cable Television Deputy Director Nguyen Van Tu said the heavy charges for pay channels from Q.net, an exclusive agency representing foreign channels, is affecting his company's turnover and they are considering discontinuing these channels once contracts complete.

Tu also added SCTV would only accept a 25-30 per cent increase compared to royalties in 2010. Some foreign channels such as Fashion TV used to be free but now are on a yearly royalty basis. The exorbitant price is recommended by the agency representing the channels and not by the foreign channels.  

Some providers of pay channels have sent official documents to the Department of Information and Communications and VNPayTV to ask for help and intervention to resolve this problem. 

The VNPayTV was established on April 23 this year to protect legal rights and benefit pay TV providers to trade and negotiate. The copyrights issue introduced as part of the regulations includes matters pertaining to channel copyrights, film copyrights, TV show copyrights, etc.

Information and Communication Director of Department Luu Vu Hai said the state management agencies suggested seeking many co-operators as representatives of foreign channels to avoid monopoly and create a competitive environment in this business.

The Decision 20/2011/QĐ-TTg on Management Regulations of pay TV shows of any foreign channel having commercial purposes, require they delegate their business activities through an agency in Vietnam. The foreign channels or TV shows, however, are not broadcast as they come but are subject to editing and translation by a TV station. 

Under such prevailing regulations, the government can easily manage the operations of the channels by a diverse group of agencies.

It is therefore necessary that the regulations for VNPayTV relating to high payments come into force so that matters pertaining to royalties are resolved finally.