Ha Noi and HCM City are still the most important cities for milk powder sales, while smaller cities/towns and rural areas also play an equally important role, according to a survey released by Nielsen Viet Nam on Wednesday.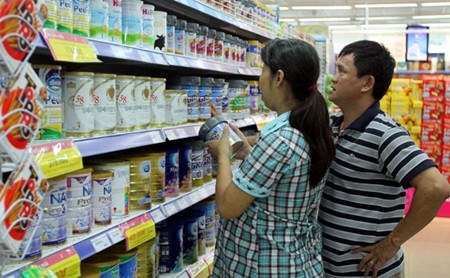 Consumers choose milk products at Saigon Co.op in HCM City. Milk powder sales in small towns are of equal importance to major cities including Ha Noi and HCM City. — VNA/VNS Photo Thanh Vu
The Nielsen Viet Nam's milk powder retail measurement survey reported during the 12 months ending June 30, 2015, that total milk powder volume sales reached approximately 14,700 tonnes in six key cities, a decrease of 11 per cent in comparison to the same period in the previous year.
The six cities included Ha Noi, HCM City, and Hai Phong, apart from Da Nang, Nha Trang and Can Tho.
According to General Statistics Office and Nielsen Viet Nam, over 70 per cent of the population is located in small cities and towns and rural areas, including 3.6 million children under the age of three, living in small cities and towns and rural areas and 950,000 children in both Ha Noi and HCM City.
Meanwhile, there are 34,000 milk powder stores in small cities and towns and rural areas, four times higher than the total number in Ha Noi and HCM City.
Furthermore, Nielsen research into rural consumers found that their income had been improving, and that health is one of the key areas of concern for them. Indeed, Nielsen's research found that rural parents have a particular desire to improve the lives of their children.
However, many foreign manufacturers have mainly invested their business in urban areas, with only domestic manufacturers fully expanding their scope into Viet Nam's secondary cities and rural areas.
Indeed, the opportunity to succeed in rural areas is highlighted by the fact that stores in rural areas tend to carry fewer milk powder products with 33 kinds of milk products against 59 kinds at stores in urban areas.
"Nielsen Viet Nam suggests that manufacturers should focus on differentiated strategies to identify new opportunities in the small cities and rural area – a key potential market to restore growth, particularly when consumption within six key cities is saturated," Le Huu Minh Quan, Associate Director of Retail Measurement Services, Nielsen Vietnam said.
"However, there are some issues for latecomers to the rural market. Firstly, stores in rural areas tend to be smaller, and more dispersed – requiring a high sales team investment. Secondly, 30 per cent of shoppers buy products that are recommended by retailers, so winning the retailer's heart and loyalty is essential to helping manufacturers expand their scope to rural successfully," the official said.
Nielsen conducts the retail measurement survey across traditional trade channel (traditional groceries, wet market, and drug stores, in addition to milk powder stores, confectioneries) and modern trade (super/hyper market, minimart and convenience stores).