Many rural and suburban localities nationwide have begun to pay more attention to protection of the environment and focusing on projects such as biogas, which provides a clean cooking fuel from left-over waste and animal droppings.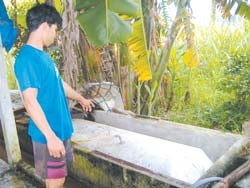 A built up drain transports dung and waste to an underground biogas tank in Cu Chi District
The biogas program has helped considerably in enhancing rural livelihood by offering a clean and renewable energy source for cooking and lighting homes. The dung residue left after processing, serves as valuable organic manure for crops, rich in natural nutrients and economically cost effective.
Households now have enough gas for cooking as well as for use in electrical farm appliances. Residents can now save a lot of money.
A pig breeder in Ba Diem Commune of Hoc Mon District said that he uses all waste water and droppings from the breeding facility to dump into the biogas tanks, and his family now saves VND1 million (US$ 47,560) each month on electricity bills.
Thai My Commune of Cu Chi District in Ho Chi Minh City has 200 households using biogas tank in this manner.
Nguyen Van Hue, chairman of the Farmer's Association in Hoc Mon District of Ho Chi Minh City, said that people in the district have built underground tanks next to breeding facilities to generate gas for   cooking and lighting, irrespective whether they have small or large scale farms.
Biogas reduces environmental pollution in rivers, canals and helps communes in suburban districts to meet criteria of the rural development program.
Many farmers in Cu Chi District, where cattle and pig breeding is rampant, are happy with the improvement in their daily lives after installing biogas plants.