Unemployment rate in Ho Chi Minh City has increased sharply in the first two months of 2012, averaging to about 10,000 persons a month, even as companies in the city are in urgent need of more than 35,000 more employees.

Unemployed-by choice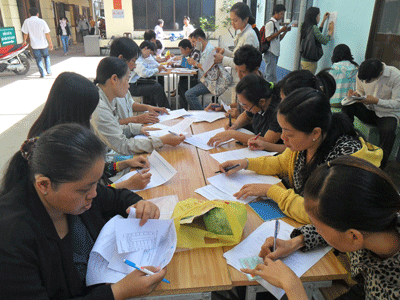 Workers register for unemployment insurance benefits (Photo: SGGP)
According to the Unemployment Insurance Centre, each month around 7 per cent of high-income employees register for unemployment insurance benefits, most of who have voluntarily resigned from their jobs.

While filling the form for unemployment grant at the branch office located at 153 Xo Viet Nghe Tinh Street in Binh Thanh District in Ho Chi Minh City, L.Q.C, a former officer in a foreign joint venture company with a salary of VND17 million per month (US$815), said she quit her job due to too many business trips at work.
As unemployment grant she stands to get about VND10 million ($480) per month.

Not only the high-income, but also the low-income workers are rushing to apply for unemployment benefits. At the branch office in Binh Tan District, hundreds of workers come everyday to complete necessary procedures for receiving unemployment grant, which is quite a paradox since most companies are now facing a dire shortage of employees.

Following advice of her friends, N.T.H, switched from P.Y Company after 10 years, to another company, while also applying for unemployment insurance benefits, saying that it was her legal right to receive this grant.

According to Nguyen Cao Thang, Deputy Director of the HCMC Jobs Placement Centre and manager of the HCMC Unemployment Insurance Office, more than 20,000 people have applied for insurance benefits since the beginning of this year, particularly after the Tet Holidays.

10,112 people have so far applied, an increase of 154 per cent compared to the same period last year. Each day, an average of 400 workers come to register.
Undue advantage of unemployment benefits

Nguyen Cao Thang said that unemployment policies and insurance conditions have become easier to fulfill, along with quick administrative procedures, hence a sudden increase in the number of unemployed, only a few of whom have actually been laid off.

Despite knowing of such practices by profiteers, there is nothing he can do to prevent such situations, as they are not in breach of any law.

Dieu Ba Duoc, Director of the Social Insurance Department of Policies on Insurance Implementation, is concerned that some people have quit their jobs just to get unemployment benefits.

According to Tran Anh Tuan, Deputy Director of the HCMC Centre of Forecasting Manpower Needs and Labour Market Information, due to the economic recession, various middle and small size companies going bankrupt, the labour market has fluctuated greatly with more than 30 per cent of job hoppers, mostly from the textile and garment industry, engineering, electronics, construction, services, and sales.

An officer at the insurance centre admitted that since the law did not clearly describe the state of unemployment, any jobless person was eligible for the unemployment benefits as long as their previous company fulfilled its duty in paying insurance.
Therefore, many people who are able to find a new job only after a few days of quitting their old one still receive an unemployment grant. Besides, the task of monitoring these people for 15 days following their registration is nearly impossible to do since there is not enough staff.

Meanwhile, there are certain truly unemployed people who have not received any money because their previous company had not paid for unemployment insurance.

The law also states that any jobless person should get free placement for a new job or a grant to learn new job skills in six months. But up till now, only a few have come to claim these benefits.