Every year on May 9, Russia celebrates the victory over Nazi Germany and remembers those who died in order to achieve it. But several Russian soldiers also took part later in Vietnam's resistance war against the US and continue to support the Vietnamese people.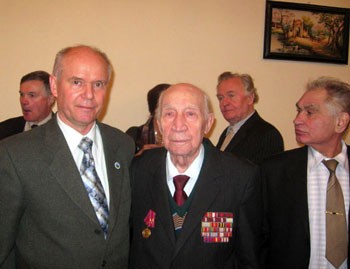 General Grigori Belov (C) and his comrades take part in the anniversary of the establishment of the Vietnam People's Army (December 22) in Russia.
Russian journalist Aleksei Sunnerberg, head of the Vietnamese language department of the Voice of Russia, sent a copy of a discussion with General Grigori Belov, a Soviet army officer who took part in both national defense wars, to Sai Gon Giai Phong Newspaper.
The general took part in the first battle at the age of 22. After the victory over Nazi Germany, he was named head of the Soviet military experts group in Vietnam in 1965.

Because Vietnamese and Soviet military commanders thought the American forces would use their infantry to attack the North, leaders and generals established an air defense system with Russian rocket battalions and air artillery networks.
General Belov completed his task in supporting the air force of the Democratic Republic of Vietnam and shot down 2,238 American aircrafts.
When he came to Hanoi in 1967 to check the arrangement of Soviet rocket battalions around the capital, he was accompanied by Vietnamese master sergeant and driver Tuan, and captain and translator Tinh.
Their car fell into an area under heavy bomb attacks and the two Vietnamese soldiers laid over General Belov to protect him. They said that it was their duty to protect him, even if it cost them their lives.
The general has never forgotten the brave soldiers' heroic actions and is eternally grateful, he said.
Vietnamese soldiers learned a great deal from Russian experts about fighting techniques, and resistance to modern weapons. They also listened to stories of Soviet heroes likely Aleksandr Matrosov, Zoia Kosmodemyanskaya, Aleksei Maresev and more.
General Belov will also never forget that he was accompanied by the late President Ho Chi Minh to perform the first test of the Katyusha multiple rocket launcher. After the successful check, Uncle Ho thanked his Russian brothers, he said.
Working in Vietnam for two years, I met the late President seven times and spoke with him in Russian, the general added.
After completing his term in office, General Belov returned home in 1967 and was awarded the First Class Labor Medal and a gun inscribed with his name from the late President Ho Chi Minh.
The Russian general often wears the medal on special occasions while the gun is now kept at an armed forces museum in Moscow.
"I took part in two wars and both of them ended with victories," the senior general said proudly.