Vietnam and Russia set to increase two-way trade through implementing investment projects and articles of the free trade agreement between Vietnam and the Eurasian Economic Union (EAEU), according to the Russian financial newspaper Vedomosti.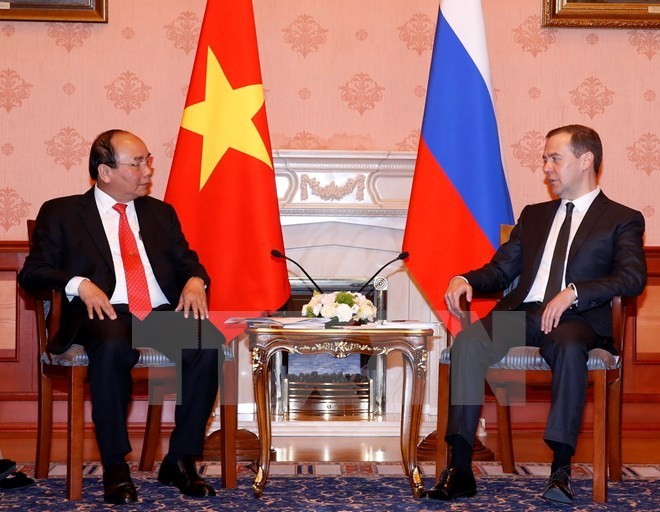 Prime Minister Nguyen Xuan Phuc meets with his Russian counterpart (Photo: VNA)
A number of energy deals were inked between the Vietnam National Oil and Gas Group (PetroVietnam) and Russian oil and gas companies in the framework of Prime Minister Nguyen Xuan Phuc's visit to Russia, the newspaper said.
Russian Prime Minister Dmitry Medvedev noted that new energy cooperation projects will bring benefits to both sides, adding the Russian Government will give preferential treatment to those projects to ensure rational returns.
The Russian Direct Investment Fund (RDIF) and the Vietnamese State Capital Investment Corporation (SCIC) also agreed to invest 500 million USD in the Russia-Vietnam investment platform to promote bilateral trade projects.
Russia wants Vietnam to provide seafood products and vegetables for the Russian market while Russia will ship high-quality meat products to Vietnam in return, Prime Minister Dmitry Medvedev highlighted.
Furthermore, cooperation in communications, information technology and banking is also among the interests of enterprises from both countries, he said.