Three Russian ships Admiral Panteleev, Pechenga and SB-522 arrived at the Tien Sa port of Da Nang City on July 31 for an three-day official visit.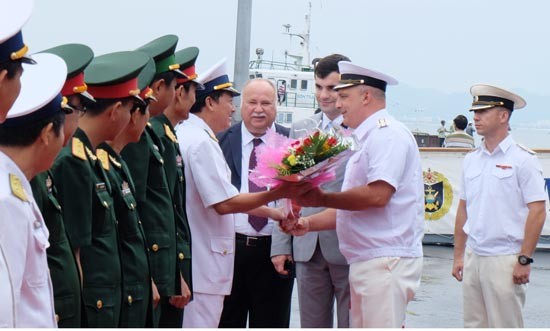 The welcome ceremony of the Russian anti-submarine ship, Panteleev, (Photo: SGGP)

The welcome ceremony was held in the presence of leader representatives of the Foreign Affairs Department of the Defense Ministry, the Commands of Naval Forces Zone No 3 and Military Zone No 5, the Border Guard High Command, the city's Border Guard and Foreign Affairs Department, representatives of Consulate General of the Russian Federation in Da Nang.

The visit aims to further strengthen bilateral defense relation; and give the crew a chance to relax and join in activities, such as visiting leaders of the municipal People's Committee and the Commands of Naval Forces Zone No 3, laying a wreath at at the Monument to War Heroes and Martyrs, as well as taking part in sightseeing tours and shopping in Da Nang City and Quang Nam Province.
Admiral Panteleev is an anti-submarine ship commanded by Captain 1st Rank Alexander V. Potapov The Russian designation is Project 1155 Fregat. The ship which weighs 570 tons has a total length of 163 meters, width 19.3 m, draft of 6.2 meters and a capacity of 300 crews.

Pechenga is a replenishment vessel while SB–522 is a salvage tug. The three ships belong to the Pacific Fleet of the Russian Navy.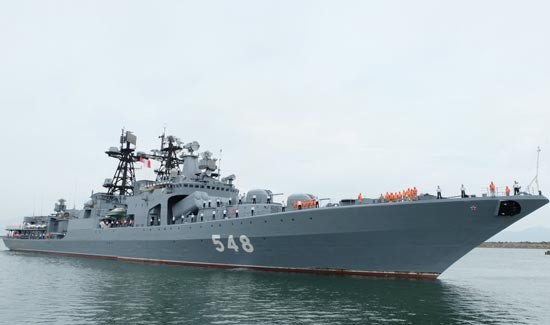 Admiral Panteleev, Russian anti-submarine ship (Photo: SGGP)