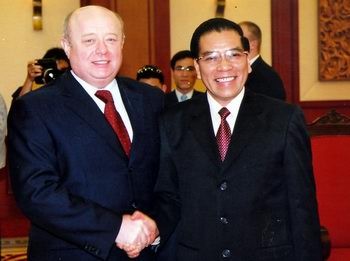 General Secretary of the CPV Nong Duc Manh (R) welcomes Russian PM Mikhail Fradkov to visit Viet Nam, Feb. 16, 2006
All-round cooperation between Viet Nam and Russia should be further developed, said Vice State President Truong My Hoa.
At her talks with Russian Prime Minister Mikhail Fradkov in Moscow on Sept. 20, Ms. Truong My Hoa also stressed that Viet Nam wants Russia to invest not only in its oil and gas industry but also in atomic energy and hydroelectric power projects.
The Vice President informed her host of Viet Nam's socio-economic development in 2006, as well as its achievements in hunger eradication and poverty reduction.
Prime Minister Fradkov recalled his visit to Viet Nam in February this year and spoke highly of Viet Nam's renewal process over the past 20 years.
He expressed his hope that the active dynamism of the new Vietnamese leadership will lead the country to greater success.
Vice President Hoa's visit to Russia and PM Fradkov's visit to Viet Nam formed part of the two countries' joint efforts to build their strategic partnership and in preparations for Russian President Vladimir Putin's visit to Viet Nam in November.
The same day, Hoa and her entourage paid floral tribute to President Ho Chi Minh at his monument in Moscow, and received representatives of the Russia-Viet Nam Friendship Association, the Russian Peace Fund and the association of former Soviet military experts in Viet Nam.-
 
Source: VNA