Russian Prime Minister Dmitry Medvedev will pay an official visit to Vietnam from April 5-7 amid remarkable progresses seen across sectors in the comprehensive strategic partnership between the two countries.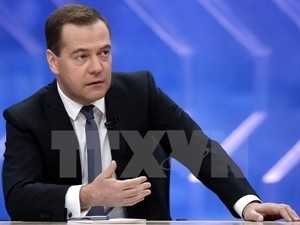 Russian Prime Minister Dmitry Medvedev (Photo: AFP/VNA)
On January 30, 1950, the then Democratic Republic of Vietnam and the Union of Soviet Socialist Republics (the Soviet Union) officially set up diplomatic relationship.
Forty-four years later on June 16, the Socialist Republic of Vietnam and the Russian Federation signed an agreement on basic principles on bilateral friendship, forming a legal foundation for their relations in the following years.
The countries inked a joint statement on lifting their ties to the strategic partnership on March 1, 2001.
On July 27, 2012, they issued another joint statement on enhancing their comprehensive strategic partnership.
Political relations between the nations have been continually consolidated as evidenced by regular all-level delegations exchanged, notably the official Russia visits by Party General Secretary Nguyen Phu Trong in November 2014, President Truong Tan Sang in July 2012, Prime Minister Nguyen Tan Dung in May 2013, and National Assembly Chairman Nguyen Sinh Hung in March 2013.
Official tours to Vietnam by Russian leaders include those by President Vladimir Putin in March 2001 and November 2006, and by Dmitry Medvedev serving as the President and Prime Minister in October 2010 and November 2012, respectively.
The countries established an annual strategic dialogue on diplomacy-defence-security at the deputy foreign ministerial level in 2008 and set up a strategic dialogue at the deputy defence ministerial level in 2013. They have also held regular political consultations at the deputy foreign ministerial level.
Vietnam and Russia have shared viewpoints on a number of regional and international issues, closely coordinated and supported each other at international forums such as the United Nations, the Asia-Pacific Economic Cooperation (APEC) forum, the ASEAN Regional Forum, and the ASEAN-Russia framework.
Their economic cooperation has strongly developed over the past years but still remains far behind potential. Vietnam and Russia recognised each other's market economy in 2007.
Two-way trade reached 2.7 billion USD (3.97 billion USD according to Russia's data) in 2013 and 2.55 billion USD (3.74 billion USD according to Russia's data) in the following year.
It faced continued downward trend in the first months of this year with 133 million USD worth of Vietnamese exports and 58 million USD worth of Russian shipments in the January – February period.
Vietnam mainly exports telephones, garments, agro-forestry-fishery products to Russia while importing gasoline, steel, fertiliser, machinery, and equipment from the East European country.
On December 15, 2014, Vietnam and the Eurasian Economic Union that groups Russia, Belarus, and Kazakhstan signed a joint statement on basically concluding the negotiation on a bilateral free trade agreement. The agreement is expected to be officially signed in the first half of 2015.
Russia currently ranks 17 th among 101 countries and territories investing in Vietnam with 106 projects worth nearly 2 billion USD, focusing on the mining, processing, and manufacturing industries.
Meanwhile, the Southeast Asian country is now running 19 projects valued at 2.47 billion USD in Russia, mainly in oil and gas and trade.
Energy is a traditional cooperation area greatly benefiting both nations. Besides expanding cooperation in the joint venture Vietsovpetro until 2030, the countries have set up other joint ventures, namely Rusvietpetro, Vietgazprom and Gazpromviet to continue oil and gas collaboration in Vietnam, Russia, and beyond.
They also inked an inter-governmental cooperation agreement on building a nuclear power plant in Vietnam on October 31, 2010.
In addition, cultural exchanges have been held regularly, contributing to promoting the two peoples' mutual understanding and friendship. Russia is among the 10 countries having the most number of tourists to Vietnam with 364,000 arrivals in 2014, increasing from 300,000 in 2013 and 176,000 in 2012.
In the past, the Soviet Union gave training for nearly 40,000 Vietnamese officials and experts. Russia pledged to provide more than 790 graduate and post-graduate scholarships for Vietnam in 2015, a surge from 600 in 2014.
About 5,000 Vietnamese students are studying in Russia and the two countries have agreed to work towards the establishment of a Vietnam-Russia university of technology in the ASEAN country.
Cooperation between their localities have also been fostered through the exchange of delegations and the signing of cooperation agreements, such as that between Vietnam's Hanoi and Ho Chi Minh City and Russia's Moscow and Saint Petersburg.
Since 1991, Vietnam and Russia have inked more than 100 cooperation documents in various fields, ranging from economics, oil and gas, nuclear energy, education-training, to culture-science, and military technique.
The upcoming Vietnam visit by Russian Prime Minister Dmitry Medvedev, meant to deepen bilateral comprehensive strategic partnership, will review the implementation of their prioritised tasks in 2014 along with seeking ways to foster ties in all spheres in 2015.-VNA