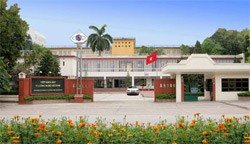 The Vietnamese Academy of Science and Tecnology
President of the Russian Federation Vladimir Putin has bestowed a  medal on Vietnamese doctor of physics and mathematics Nguyen Manh Sat—a frequent collaborator with the Dupna Institute of Research Nuclear, Russia—for his outstanding contributions to the development and consolidation of scientific and technological cooperation between the two countries.
Doctor Nguyen Manh Sat was born in 1943, graduated from Lvov University in 1971 and defended his doctoral thesis on Physics and Mathematics, majoring in electron nuclear in Dupna Institute in 1976.
He is now working for the Vietnamese Academy of Science and Technology (VAST) and has  led the delegation of Vietnamese scientific collaborators at the Dupna Institute since 1995 .