Russian Prime Minister Dmitry Medvedev arrived in Hanoi on April 5, beginning his three-day official visit to Vietnam.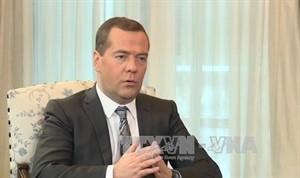 Russian Prime Minister Dmitry Medvedev. Source: VNA
The visit, at the invitation of Prime Minister Nguyen Tan Dung, is to strengthen and consolidate the comprehensive strategic partnership between Vietnam and Russia.
His is accompanied by Deputy PM and Head of the Russian Government Office Prikhodko S.E., Deputy PM and Presidential Plenipotentiary Envoy to Russia's Far East Federal District Trutnhev Y.P, Minister of Industry and Trade Manturov D.V., and Energy Minister Novak A.V., and other senior officials.
Political relations between the nations have been continually consolidated as evidenced by regular all-level delegations exchanged.
The countries established an annual strategic dialogue on diplomacy-defence-security at the deputy foreign ministerial level in 2008 and set up a strategic dialogue at the deputy defence ministerial level in 2013.
Their economic cooperation has strongly developed over the past years but still remains far behind potential. Vietnam and Russia recognised each other's market economy in 2007.
Two-way trade reached US$ 2.7 billion ( US$ 3.97 billion according to Russia's data) in 2013 and US$ 2.55 billion (US$ 3.74 billion according to Russia's data) in the following year.
On December 15, 2014, Vietnam and the Eurasian Economic Union that groups Russia, Belarus, and Kazakhstan signed a joint statement on basically concluding the negotiation on a bilateral free trade agreement. The agreement is expected to be officially signed in the first half of 2015.
Russia currently ranks 17th among 101 countries and territories investing in Vietnam with 106 projects worth nearly US$ 2 billion, focusing on the mining, processing, and manufacturing industries.
Meanwhile, the Southeast Asian country is now running 19 projects valued at US$  2.47 billion in Russia, mainly in oil and gas and trade.