Minister of National Defence Gen. Phung Quang Thanh on May 16 received a delegation of Russian and Ukrainian veterans who worked and fought during Vietnam's resistance war against US aggressors.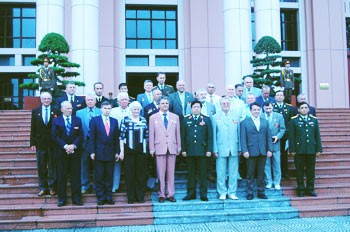 General Phung Thanh Quang poses photo with Russian and Ukrainian veterans in Hanoi on May 16, 2009. (Photo: QDND)
Gen. Thanh said the people and army of Vietnam had received wholehearted and effective assistance from international friends during their struggles for national independence.
The Russian Federation, formerly the Soviet Union, and Ukraine had sent thousands of military experts and advisors to help Vietnam, he said, adding that this support had contributed to the victory of the Vietnamese people in the war.
The general expressed his belief that the delegation's visit will help increase mutual understanding and promote cooperation and traditional friendship between the Vietnam People's Army and its counterparts from the Russian Federation and Ukraine. .
On behalf of the delegation, Colonel Bazarov Alekseevich said he hoped the traditional friendship between Vietnam and the Russian Federation and Ukraine would further develop.