The hydrographic research and charting vessel Marshal Gelovani of Russia's Pacific Fleet anchored at Cam Ranh international port in the central province of Khanh Hoa on May 2.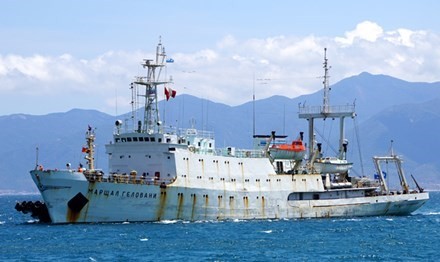 Vessel Marshal Gelovani enters Cam Ranh port on May 2 (Photo: tienphong.vn)
The ship's stop in Vietnam, which is to take on basic supplies for its voyage, is permitted by the country's Ministry of National Defence.
The 63 crew members, captained by Dobrenko Vladimir Mikhailovich, will also take this opportunity to visit Nha Trang city in Khanh Hoa province.
The vessel is scheduled to leave Cam Ranh port on May 5.