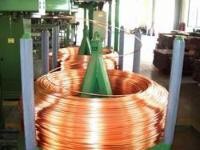 Electric cables are producing at SACOM.
Viet Nam's Cable and Telecommunications Material Company (SACOM) and a Korean partner, Taihan Electric Wire Corporation (Taihan), have set up a joint venture to produce high-voltage power, optical and telecommunication cables.
The Taihan-SACOM Joint Venture Company (TSC) has an operational period of 48 years and a total investment of US$ 28 million in chartered capital, in which SACOM's stake is 30% and the rest belongs to Taihan, one of the leading cable producers in Korea.
The new venture corporation's leadership includes Chairman Do Van Trac, General Director of SACOM, and General Director Ha Sung Im, present managing director of Taihan.
In February, the Taihan-Sacom Joint Venture will start the construction of its nearly US$ 39-million factory on an area of 15 hectares in Long Thanh Industrial Park, Dong Nai Province next year.
The venture specializes in producing high-voltage power, optical and telecom cables, besides launching many services including technical consultancy, installation and maintenance of the above-mentioned products.