More than 40 volunteers for the "Spring to Border Areas" program set off for the central highland provinces of Gia Lai and Kon Tum and Ca Mau in the Mekong Delta on January 21.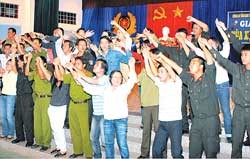 Local people and members of the "Spring to Border Areas" program join an exchange in the 6th event. (Photo: Sggp)
The program is an annual charity event whose members mostly come from the Sai Gon Giai Phong Newspaper, Ho Chi Minh City Television, HCMC Police Newspaper, HCMC Heart Institute, Law University of HCMC and Muc Tim teen magazine.
The team of volunteers will distribute thousands of gifts and medicine to disadvantaged people and wish them a warm and joyful Tet. They will also greet soldiers who have been posted on the islands to fulfill military duties and are unable to return to their homes for Tet.
The charity program which first started in 2003, has so far provided free medical check-ups and treatment, distributed thousands of Tet gifts to poor people and organized more than 150 visits to meet with soldiers in frontier posts in the Central Highland provinces of Gia Lai, Dak Lak,Kon Tum, and the southern province of Ca Mau.

The organizers had also presented Tet gifts to overseas Vietnamese in the neighboring country of Laos in 2006.