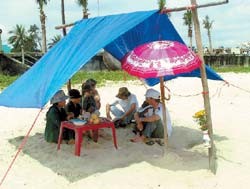 People are waiting for their relatives' returns
The Sai Gon Giai Phong Chanchu Fund has been set up for victims' relatives and survivors in the Central Viet Nam coastal regions impacted by typhoon Chanchu.
The Fund is to provide grants for medium to long-term recovery needs in the affected areas. It is an effort to help minimize the impact of the disaster on the victims and their families.
The Sai Gon Giai Phong Chanchu Fund calls for contributions from donors throughout the nation as from May 22.
Donations in form of cash and materials are welcomed at the Sai Gon Giai Phong Newspaper's Headquarter, 432-438 Nguyen Thi Minh Khai street, District 3, Ho Chi Minh City. For more information, please contact the Social Charity Department : 8340018.
Related Articles:
General Secretary Sends Condolences to Typhoon Victims' Families
Central Viet Nam's Fishermen Affected Most Seriously