The Eighth Saigon Cyclo Challenge, one of the premier events in HCM City's annual charity/sporting calendar, is scheduled to be held on Saturday, March 8, at the Taipei International School in District 7.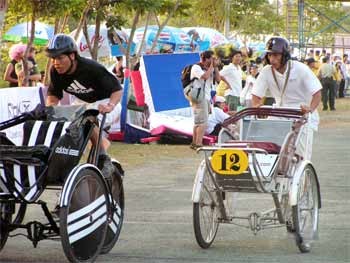 Participants are competing in the last year race (Photo:P.Nhu)
Paul Finnis, chairman of the organizing board, said all the money raised through sponsorship would be donated for poor children's education since the cost of staging the event would be covered by ticket sales.
The event celebrates a unique Vietnamese icon and major tourist attraction, the environmentally friendly cyclo. 
Debbie Clark, the British consul in the city, said, "The Cyclo Challenge has evolved into one of the most spectacular and colorful sporting and charity events in HCM City. The scale and success of the Cyclo Challenge is also a great tribute to the social responsibility of the HCMC business community."
Tickets go on sale on January 25 and can be purchased from HSBC at 235 Dong Khoi and from Saigon Children's Charity at 59 Tran Quoc Thao Street.
They cost VND200,000 for adults and VND150,000 for children under 12. Entry is free for kids under five.