According to a survey conducted by Mercer, the US human resource consulting firm, the salary increase rate was higher than inflation rate in Vietnam in 2012.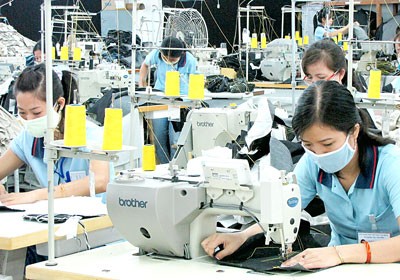 Workers producing jeans for export to the US in HCMC (Photo: SGGP)
Specifically, the salary increase rate was 13.3 percent while the inflation rate was estimated at 9.5 percent this year.
Mercer had carried out a salary survey in 371 companies in various fields of work of 121,000 workers around the country.
Salary hiked most in production fields with 13.7 percent, followed by medicine and chemicals with 13.5 percent. Oil and gas and banking fields saw salary rise by 3.1 percent.
In the first six months of the year, the rate of attrition in workers was 6.9 percent in foreign invested companies and 8.3 percent in domestic companies.
The number of employees quitting in the information technology field was the highest with 18.6 percent and lowest in the oil and gas field with 5.9 percent.