Extreme high levels of salinity intrusion in water and soil could cause vast amounts of damage to rice fields in the Mekong Delta province of Soc Trang this year, according to provincial authorities.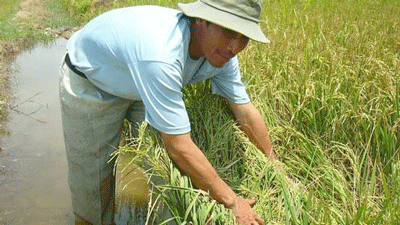 Salinity in Soc Trang Province is threatening an area of 14,000 hectares of rice cultivation
Vinh Bien Commune, Vinh Quoi Commune and Nga Nam Town of Nga Nam District are already facing a severe threat from salinity in water flowing through Phung Hiep and Ngan Dua Canals, and hence threatening an area of 14,000 hectares of rice cultivation.
The Department of Agriculture and Rural Development in Nga Nam District has announced that salinity rate is above 9.6 thousand times above normal this year.
Although all nine salt prevention sluice gates in Nga Nam District have been completely closed by now, many households in neighbouring Bac Lieu Province are still using saline water for their prawn farms, and thus greatly affecting rice fields nearby.
At the moment, many areas under summer-autumn rice crop have dried up, yet farmers cannot pump water into their fields to save their crops as most of the rivers here are saline.

Concerned agencies have advised farmers to closely monitor the salinity situation and expect that the coming rain season will help ease this grave situation a great deal.