Despite a bumper salt harvest last year, salt workers nationwide are grieving, as prices of salt have dropped to a record low.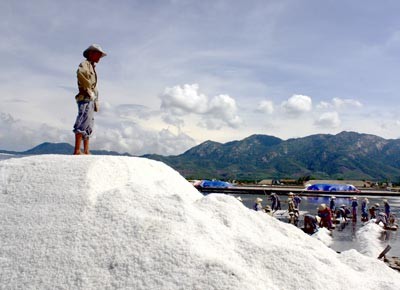 File photo show farmers in Ninh Thuan Province harvest salt.They are worried a bumper harvest will only result in a further drop in prices, inflicting huge losses.(Photo:SGGP)
The Tri Hai Commune in Ninh Hai District in the Province of Ninh Thuan is considered a city of salt. Salt making is highly dependent on the weather and even though the weather conditions have been favourable, salt workers worry about their livelihood as price of salt continues to drop.
Le Thi Hai, a salt worker, said that salt price is currently VND300 per kilogram. At this price, farmers do not benefit but face losses.
The bumper harvest of salt last year brought no cheer to farmers because salt prices dropped. The situation worsened when farmers were unable to find buyers.
This year, salt prices continue to drop and farmers are becoming more unenthusiastic in their work. Many have moved to cities to find jobs to make ends meet.
According to Le Minh An, Chairman of Ninh Diem Ward People's Committee, the ward still stores around 1,000 tons of salt. Last year, as farmers could not sell salt they are facing hardships now. A similar situation has occurred in other places in the central region.
In Ninh Hoa Commune, about 600 households are facing difficulty and unable to make ends meet in their daily lives.
According to a representative from the Ninh Hoa Commune People's Committee, farmers worry about the next harvest, which is expected to see a further drop in the salt prices.
Another aspect is that farmers make salt manually which results in a low-grade salt. They do not have the money to invest in new technology to manufacture salt. As they were unable to resolve their problem, most farmers have moved to other places to find a living.