This year, salt penetration has occurred early and far more severe in coastal provinces of the Mekong Delta like Tien Giang, Tra Vinh, Soc Trang, Bac Lieu, Ca Mau, Kien Giang and Ben Tre.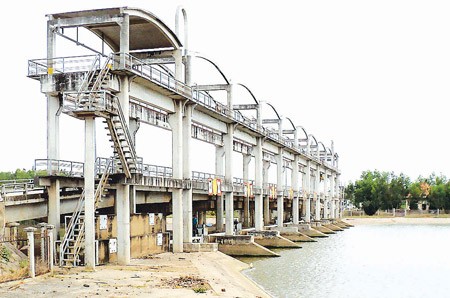 Several sluice gates have been closed to prevent further salt penetration in the Mekong Delta (Photo: SGGP)
In Ben Tre Province, salt water has penetrated tens of kilometers inland via large rivers. By February 18-21, salinity level may reach four per thousand in Ben Tre City, located 50 kilometers from the sea coast.
According to the Hydro Meteorological Center in Ben Tre Province, salinity will touch 27-30 per thousand in Cua Dai, Ham Luong and Co Chien Rivers.
Local authorities in Tra Vinh Province have implemented measures to prevent salt water from penetrating further inland and are pumping freshwater to dilute salinity.
Kien Giang Province has closed 27 sluice gates to hold salt water back and keep fresh water clean for hundreds of thousands of hectares of the winter-spring rice crop.
In related news, the level of Dak Bla River in the central highland province of Kon Tum has fallen to its lowest level in 37 years, since Tet Lunar New Year.
The Hydro Meteorological Center in the Central Highlands reported that the water level is 30-40 percent lower than average level in the upper reaches of the river.
Similar condition was also recorded in other rivers and springs in the province, several of which have been depleted.
The long-lasting scorching weather has destroyed nearly 8,000 hectares of plantation in Gia Lai Province.

Related article:
Mekong Delta experiences worse salt penetration