Salt water intrusion into farmlands has caused great difficulties for those living and producing goods in the Mekong Delta region, local hydro-meteorological centres have reported.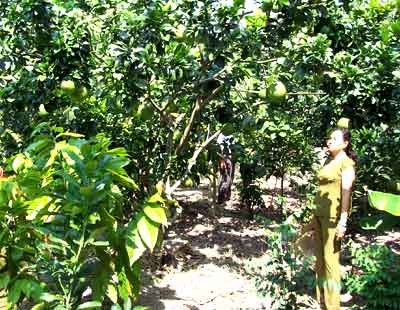 An orchard in Ben Tre province
In Ca Mau province, salt water has breached agricultural land and fish breeding grounds in Tran Van Thoi District, while canals providing water for rice fields in U Minh District have also been affected.
The provincial irrigation department suggested building four dams to prevent saline of rice fields.
In Kien Giang province, rice fields and aquaculture ponds were also affected. Initial losses in An Minh, An Bien and Vinh Thuan communes were estimated to be hundreds of million of dong.
Presently, salt water continues to flow into Hon Dat and Kien Luong districts and into Rach Gia City .
According to local hydro-meteorological workers, salination will get more serious, with sea water flowing into 50-60 km of land.
High levels of salt water have also threatened 12,300ha of orchards in Cho Lach District of Ben Tre province.
Meanwhile, in Tien Giang province, farmers have promptly harvested 28,000 ha of winter-spring rice crops to avoid losses caused by salination.
In the Mekong Delta region, unseasonable rains over the last few days have helped reduce forest fire risks. As many as 12,605 ha of indigo forest and 1,000ha in U Minh Ha National Park were saved from fire alerts.
The heavy rains have also provided water for 5,000ha of rice and other agriculture in Kien Giang province.
However, the local forest management department warned that after the rains ended the forests would be at a higher risk.
Water used for forest fire prevention has been seriously lacking due to the prolonged drought.