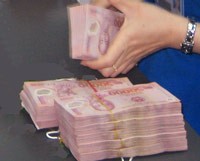 New polymer bank notes will be put in use in Q3/2006. (Photo: T.C)
The two new polymer bank notes will be taken into circulation before the third quarter of 2006, State Bank of Viet Nam (SBV) announced after its treasury meetings.
When the issue of polymer notes is completed, SBV will compile catalogues describing all their characteristics and safety technologies for the ease of use.
Moreover, due to the shortage of metal coins of low value, some banks have received paper notes of low nomination from middle of March, of which the 1,000 notes are newly-issued and the 2,000 notes are used. This is the alternative solution when there are not enough metal coins to meet demands now.
SBV didn't inform when metal coins are minted for the second time, as it is currently waiting for approval from the Government.